Radiation Health and Safety Advisory Council also warned against cloak of national security to 'mask inadequate radiation safety protection'
Labor and the Coalition have been accused of taking a "deeply unsettling approach" to transparency around Aukus after the major parties blocked the publication of documents about nuclear safety and waste issues.
The government cited national security concerns when it rejected a Senate order to produce documents, including those about options to manage operational waste from the nuclear-powered submarine program.
The move comes just months after the Radiation Health and Safety Advisory Council warned against allowing a cloak of national security to "mask inadequate radiation safety protection of the Australian public, weaken regulatory authority, or inhibit transparency on matters of Australian public safety".
David Shoebridge, a Greens senator and defence spokesperson, said the council was "the very agency entrusted to protect Australians from radiation and ensure nuclear safety and security, yet the government is already ignoring its advice".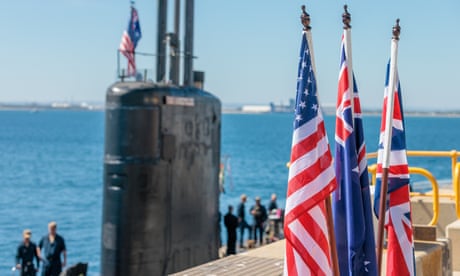 "The hiding of information at this early stage signals a deeply unsettling approach to future regulation, transparency and oversight of these nuclear submarines," Shoebridge said.
His motion had sought a range of documents reviewed by the Australian Nuclear Science and Technology Organisation (Ansto) working group, including the safeguards required for a nuclear-powered submarine program.
It also sought information about the "characterisation, classification and acceptance of risks in a nuclear environment" and any minutes of meetings held with the nuclear-powered submarine taskforce on these topics.
But Anthony Chisholm, a Labor frontbencher said disclosing such material would be "contrary to Australia's national interests".
"It may be prejudicial to the security or defence of the commonwealth, and could prejudice international relations as well," he said.
The Coalition joined with Labor to defeat the motion in the Senate this week.
The former independent senator and submariner Rex Patrick said the blocking of the motion "shows the shallowness of thinking behind both major parties as to the need for complete transparency around this important issue".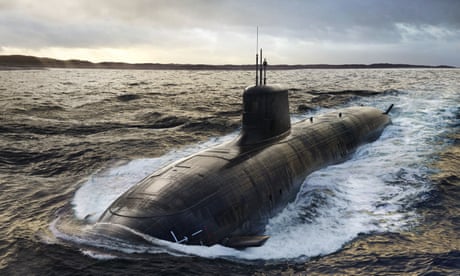 "This Aukus program has been orchestrated in total secrecy such that the government and Defence could get to a point of announcing a fait accompli without any debate or resistance," Patrick said.
"There are some things that should properly be kept secret around a submarine – but these things should not include nuclear stewardship, nuclear regulation, nuclear safety or how to deal with operational waste and spent fuel."
Patrick has, however, used freedom of information laws to obtain some other documents from Ansto and the Australian Radiation Protection and Nuclear Safety Agency (Arpansa).
These include minutes of an Ansto board meeting on 9 February showing the agency will seek government funding of $34.5m over the next four years because it faces increased workload "as a direct result of a nuclear-powered submarine program".
Ansto is also concerned about the risk of a "loss of workforce" to other taskforces and regulators as the Aukus project ramps up.
It expects "increased frequency of requests for radiological monitoring" coinciding with an increase in visits to Australia by US and UK nuclear-powered submarines.
A nuclear emergency response exercise was held in Hobart on Thursday.
Guardian Australia understands this was the latest in a long series of "tabletop" exercises that aim to ensure government agencies can support nuclear-powered warship visits.
The deputy prime minister, Richard Marles, said Australia must become "responsible nuclear stewards".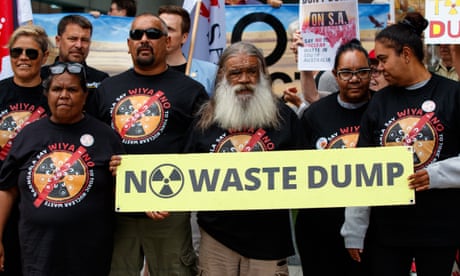 "This will mean developing the full suite of skills, facilities and institutions along with an appropriate regulatory and legislative architecture to be nuclear stewards," he said.
The government has promised to establish "a new dedicated executive agency responsible for delivering the optimal pathway for Australia's nuclear-powered submarine program", while also setting up a new independent regulator.
Within 12 months the government would "set out the process" to identify current or future defence land that could be used for the storage and disposal of nuclear waste, Marles said.
"I want to assure the parliament that there will be appropriate public consultation, particularly with First Nations communities to respect and protect cultural heritage," he said.
In the latest sign of misgivings within Labor, a party branch in the electorate of the prime minster, Anthony Albanese, passed a motion calling on his government to "withdraw from the Aukus alliance and cease any program in pursuit of the acquisition of nuclear submarines".
Party members at the Enmore branch meeting this week agreed that Labor should prioritise spending that contributes to the "social good of our society rather than wasting hundreds of billions of dollars on a dangerous and unnecessary weapons program".
According to a copy that has been widely circulated within NSW Labor, including to a large number of branch secretaries, the motion argued Aukus was "not in the interests of the Australian people" and "could take us into an unnecessary and devastating war".
The motion reflects concerns within elements of the party's rank-and-file membership, but does not yet indicate a groundswell that could stop the deal.
The federal Labor caucus is largely united behind the Aukus agreement unveiled last week by the prime minister, even though some MPs have asked questions.
The defence industry minister, Pat Conroy, vowed to allay concerns about the multi-decade plans.
"This is the most significant industrial endeavour this country has ever attempted," Conroy said.
"That is why we need to give people confidence we have a plan and have thought through how to deliver it."
The Petersham branch – also within Albanese's electorate – passed an anti-Aukus motion in late February, before the San Diego announcement.
Labor members are also mobilising against the possibility of Port Kembla being selected as a future base for nuclear-powered submarines.
Some members are understood to have been emboldened to register their concerns, after several prominent Labor figures including the former prime minister Paul Keating spoke out against Aukus.
Source: The Guardian