LOS ANGELES — LeBron James made his way down the ramp to exit the arena Monday night, having just completed his 20th NBA season with an unceremonious sweep out of the playoffs, not knowing if it would be the last time he would make that walk as an active player.
James told ESPN he will consider retirement this offseason.
After scoring 40 points and playing all but four seconds of the Los Angeles Lakers' 113-111 Game 4 loss to the Denver Nuggets — with his last-second floater to try to force overtime being blocked at the buzzer — James ended his news conference by telling reporters, "Going forward with the game of basketball, I've got a lot to think about."
Following the news conference, ESPN asked James to elaborate on his statement.
When you say you got to think about stuff, what thread should we be pulling on that?
"If I want to continue to play," James said.
As in next year?
"Yeah."
You would walk away?
"I got to think about it."
The 38-year-old James wrapped up his campaign by leading the No. 7-seeded Lakers all the way to the Western Conference finals.
He played in all 17 of L.A.'s postseason games — including the play-in win over the Minnesota Timberwolves — while still managing a right foot injury that caused him to miss a month straight late in the regular season because of a torn tendon.
James said he heard a pop when he injured his foot against the Dallas Mavericks on Feb. 26. He consulted a cadre of medical professionals, several of whom recommended surgery, before finding a doctor he described as "the LeBron James of feet" and was assured he could rehabilitate the injury and return to the court without a procedure.
When asked Monday if surgery could be an option this summer, James told ESPN, "I'm going to get an MRI on it and see how the tendon either healed or not healed and go from there. We'll see what happens."
While James admitted his performance was affected by his foot injury after he returned, he did not consider shutting down his season early, as was the case 2021-22, when he missed the final five games because of a lingering ankle injury, and in 2018-19, when he was absent for the final six because of a groin strain that hadn't fully healed.
"I knew I could get to the finish line," James told ESPN. "Obviously, I knew I had to deal with it and deal with the pain or deal with not being able to be myself before the injury, but there was nothing that made me feel like I couldn't get to the finish line."
James was brilliant in Game 4 against Denver, setting a new personal best for points in a half in a playoff game by lighting the Nuggets up for 31 points on 11-for-13 shooting by halftime while playing in the 282nd playoff game of his career.
While he finished with nearly twice as many points as his next closest teammate (Anthony Davis scored 21), James ultimately came up short twice trying to tie the game down the stretch — first missing a fadeaway with 26 seconds remaining then getting blocked by Aaron Gordon as time expired.
James has one season remaining on his contract with the Lakers, worth $46.7 million for 2023-24, and a player option for the following season worth $50.4 million.
Over the past several years, he has repeatedly made it known that his goal is to play with his oldest son, Bronny, in the league before he retires. As he approached passing Kareem Abdul-Jabbar's all-time scoring record in February, he told ESPN the last thing left for him to accomplish after the scoring mark was, "I got to play with my boy."
However, he softened on that stance recently. Following the Lakers' Game 3 win over the Golden State Warriors in the second round — which coincided with the day Bronny declared he would be playing college basketball for USC next season — James adjusted the expectation.
"I've done what I've had to do in this league, and my son is going to take his journey," he said. "And whatever his journey, however his journey lays out, he's going to do what's best for him. And as his dad, and his mom, Savannah, and his brother and sister, we're going to support him in whatever he decides to do. So, just because that's my aspiration or my goal, doesn't mean it's his. And I'm absolutely OK with that."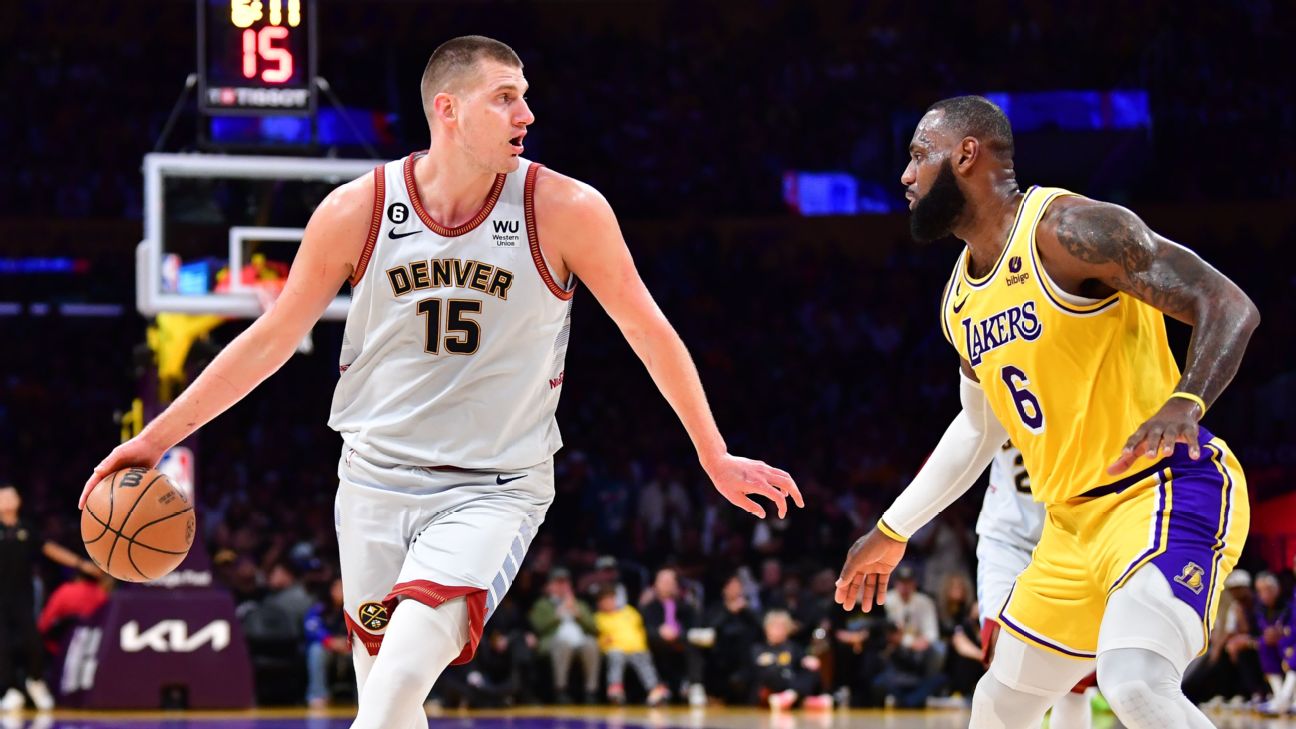 A source close to James told ESPN that L.A.'s postseason run was taxing on the Lakers star in various ways. There was the long flights and physical play in the Memphis Grizzlies series; emotional and mental fatigue in the Golden State series from taking down his old foes; and giving everything he had left to give against Denver and still losing the series 4-0.
Davis, when informed by ESPN about James' postgame comments following Monday's loss, was surprised to hear them at first. Like James, Davis is under contract with the Lakers for next season — one of only a few players with deals on a roster that could see a lot of movement this summer.
But after considering the remarks a little longer, Davis recalled a recent conversation he had with James when he told James he "might have one more in me" when talking about the 2024 Olympics in Paris. James told Davis he might already be done by then. Davis, thinking James misheard him, explained he was talking about USA Basketball next summer, not 2028 in Los Angeles.
James reiterated to Davis that he could have already hung up his sneakers by next year's Olympics.
For now, James will have time to think. He'll get his foot checked out. He'll see how the Lakers look for next season and decide if he will suit up for season No. 21.
As much as there is a side of him wondering if it's time to go, however, there's still a side that is very much still in it.
Asked by ESPN if he believed a full summer of rehab could get him back to the player he was before his foot injury, James nodded affirmatively.
Why?
"Because I'm still better than 90% of the NBA," he said. "Maybe 95."
Source: ESPN