Boston Marathon icon Rick Hoyt has died at the age of 61. Hoyt was a longtime staple on the Boston course, pushed in his wheelchair by his father Dick for decades.
"It is with profound sadness that the Hoyt Family announces the passing of our beloved brother and uncle, Rick Hoyt this morning. Rick was 61-years-old. Rick passed away due to complications with his respiratory system," the family said in a statement Monday.
"As so many knew, Rick along with our father, Dick, were icons in the road race and triathlon worlds for over 40 years and inspired millions of people with disabilities to believe in themselves, set goals and accomplish extraordinary things. Rick was also a pioneer in education. His mother Judy Hoyt changed the laws allowing her son to be educated alongside his non-disabled peers. His family is heartbroken and requests time to grieve and will share details as they become available."
Rick had cerebral palsy, which left him a quadriplegic. In 1977 he told his father Dick that he wanted to take part in a charity run for a lacrosse player who was paralyzed in an accident.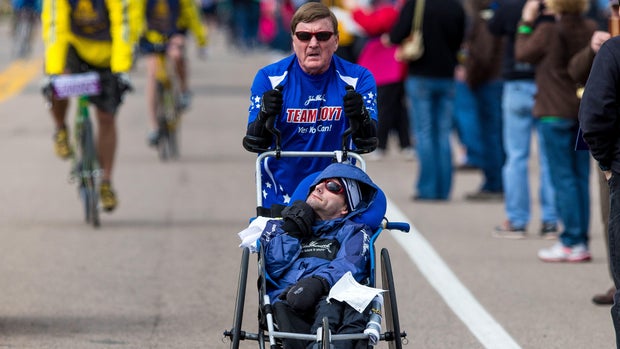 Dick pushed Rick for the race, after which Rick told his father, "When I'm running I don't feel handicapped."
Over the next few decades, the Hoyts completed more than 1,000 races together, including 32 Boston Marathons.
When Dick retired from running, other athletes kept Rick in the race for four additional Boston Marathons. Rick announced his own retirement in 2021.
The Hoyt family has been preparing for the first Dick Hoyt Memorial road race this weekend, in honor of Rick's father who died in 2021. Plans for that event are currently on hold. "We will be making a decision on whether that will still happen on Saturday or be postponed until a later date," the family said Monday.
Russ Hoyt, Rick's brother, says people still come up to him on a daily basis saying they were inspired by his family's story. "It turned their life around," Russ said in an interview with WBZ-TV's Steve Burton. "They started to run, they started to make an effort to do something to make their life better because they were inspired by them."
Rick also served as an inspiration to his nephew Troy, who was going to push him in the race this weekend. "Ever since I was younger just watching them cross the finish line year after year for the Boston Marathon, I was like you know what I'm going to do that one day," Troy Hoyt said.
"I tell you; I think Steve what he is doing now, is he finally got out of that wheelchair and he's pushing dad in the race now," Russ Hoyt said.
Longtime Boston Marathon race director Dave McGillivray called Rick "one of the most inspirational heroes this world has ever known."
"Sadly, Rick Hoyt passed away peacefully today and is now back with his father, Dick," he continued in a written statement. "It's hard to believe they both have now passed on but their legacy will never die. Dick and Rick Hoyt have inspired millions around the world. I was so fortunate to have known them and to have been a friend of theirs for over 40 years and even to have been their manager at times.
"We all will truly miss Rick as we have missed his father but we will never, ever forget the gift they both left all of us — that we all can overcome obstacles and we can accomplish special things in our lives that have positive impacts on other people's lives.
"We will always be grateful, Rick, for your courage, determination, tenacity and willingness to give of yourself so that others, too, could believe in themselves, set goals, and make a difference in this world as you have."
Source: CBS News