Another intense heat wave appears likely to set up over Minnesota and the Midwest for the Labor Day weekend. Most major forecast models pump up another heat dome high-pressure ridge across the central United States next weekend. (See the forecast model loop above.)
If current forecast model temperature projections verify, temperatures could approach record levels in the upper 90s to 100 degrees again across much of southern Minnesota next weekend.
Another string of days in the 90s is likely starting late this week, and unfortunately most of this week looks dry again other than a few isolated thundershowers Monday afternoon.
Heat dome rebuilds
The central U.S. has been baking under a massive heat dome for much of this summer. The upper ridge of high pressure will amplify and reassert heat into the Upper Midwest for the Labor Day weekend.
But it will take a few days for the ridge to build back over Minnesota. A weak cool front will keep highs in the 70s to lower 80s around Minnesota on Tuesday and Wednesday.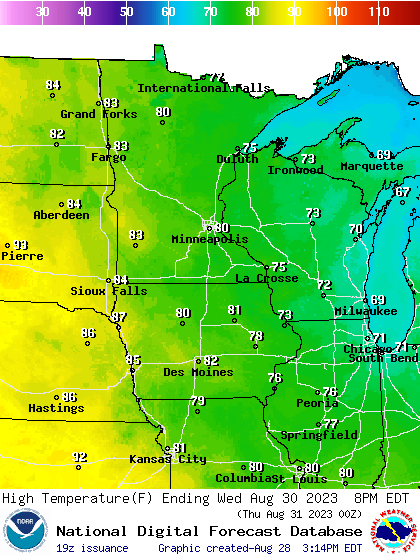 Most forecast models have 90-degree temperatures returning to southwestern Minnesota and possibly the western Twin Cities suburbs by Friday afternoon.
The peak of the heat wave is likely to build in across southern Minnesota for the Labor Day holiday weekend. The European Centre for Medium-Range Weather Forecasts model cranks out highs in the mid to upper 90s around the Twin Cities by Labor Day.
The National Oceanic and Atmospheric Administration's Global Forecast System model is usually too aggressive with temperatures in these situations.
I'll spare you the scary (and likely overdone) GFS maps, but it should be noted that the GFS cranks out temperatures well in excess of 100 degrees for the Labor Day weekend across southern Minnesota including the Twin Cities.
I won't be shocked if temperatures reach 100 degrees again next weekend in parts of southwestern Minnesota around Madison or Canby.
Record highs next weekend for the Twin Cities are 97 to 98 degrees. My current read is that we may approach records in the Twin Cities and much of Minnesota next weekend.
Stay tuned as future model runs assess the likely magnitude and duration of the evolving heat wave next weekend.
Source : MPR News